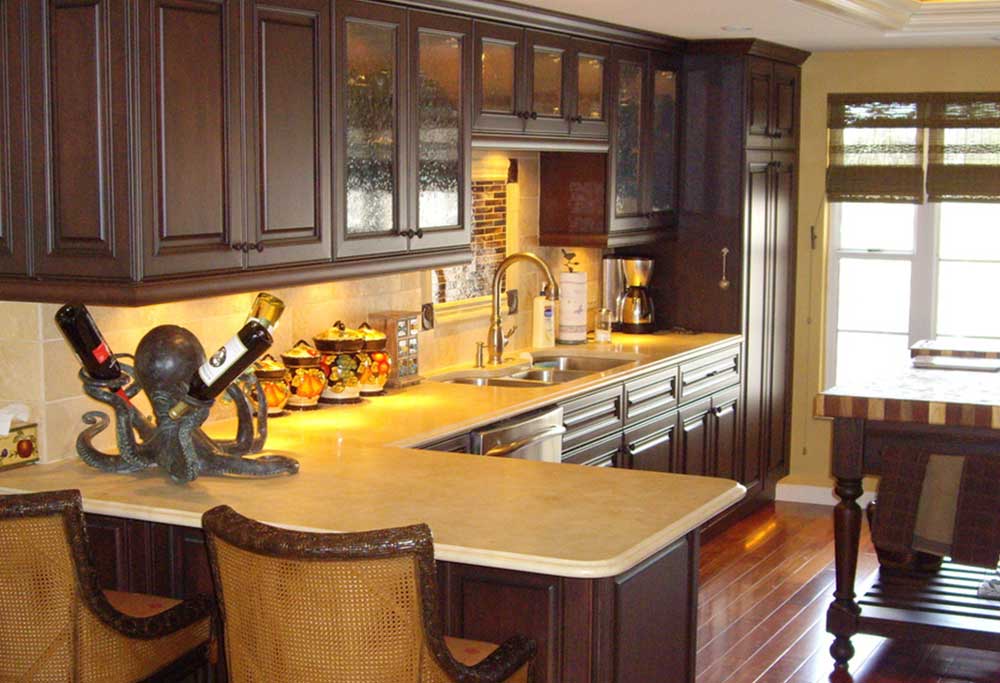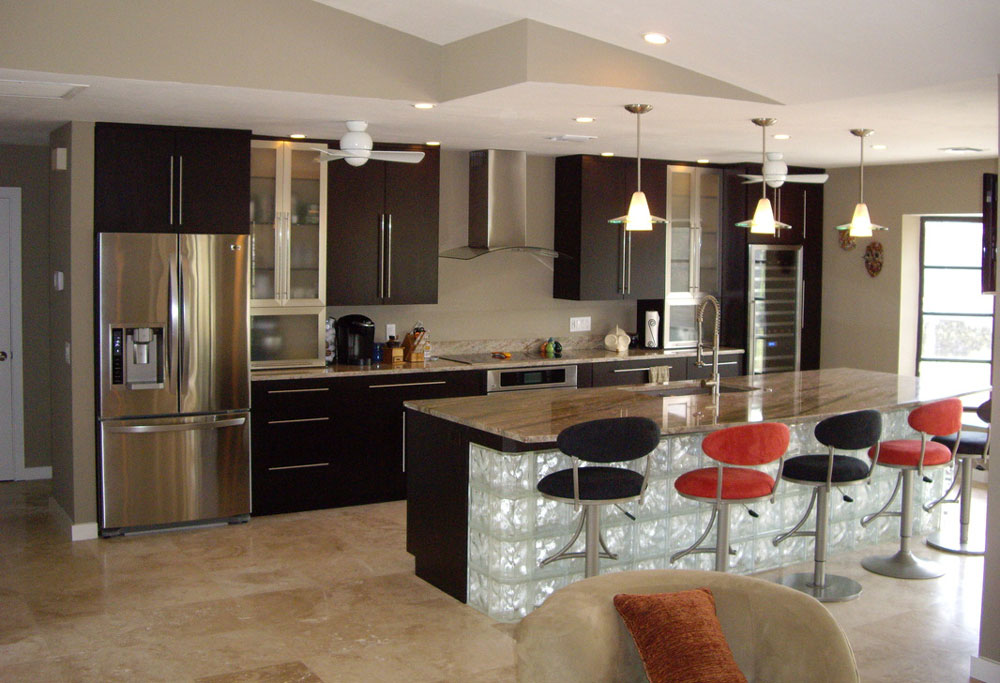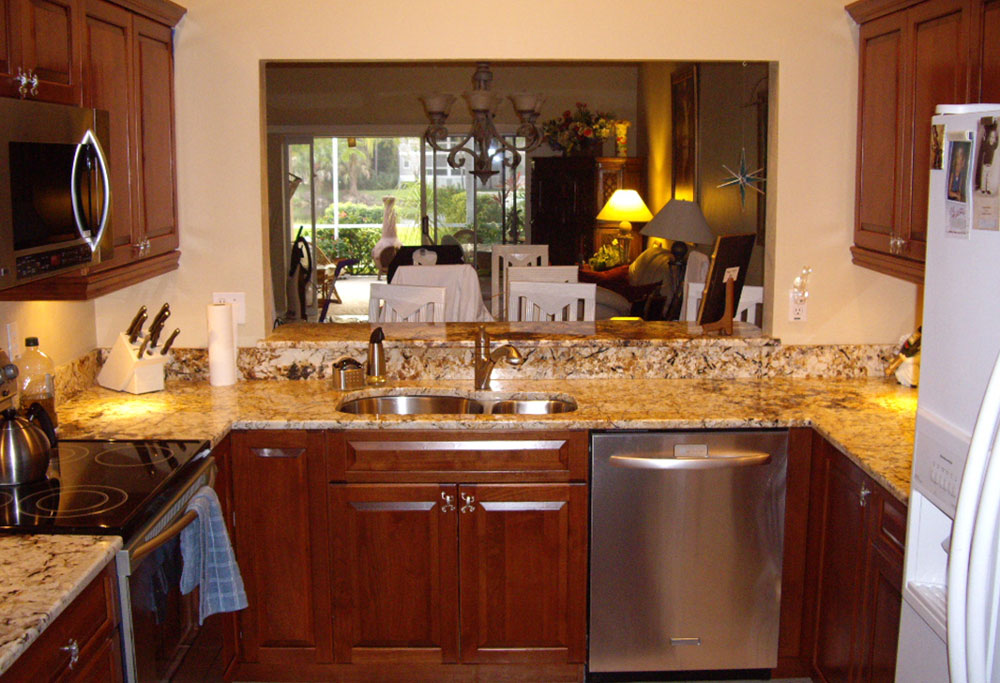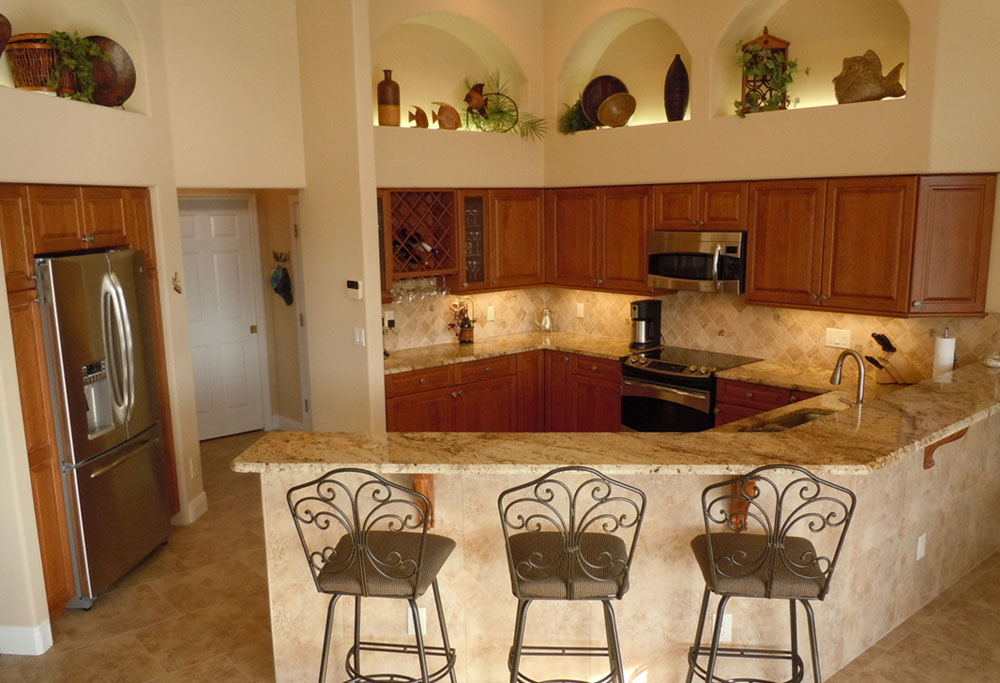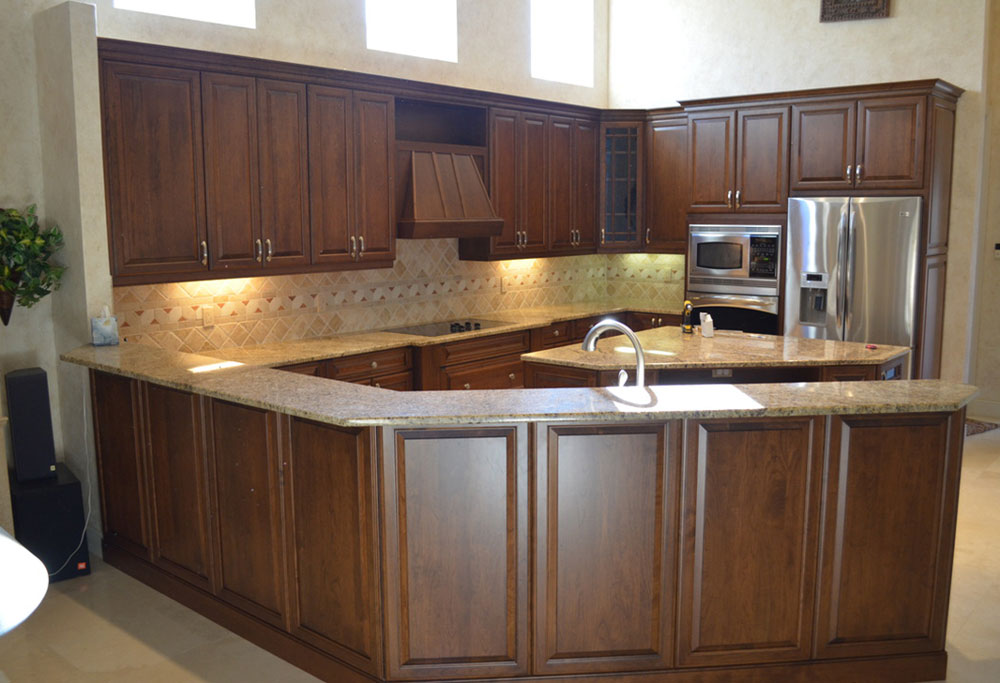 Face Lift in Fiddler's Creek
Naples Beach Front Condo
This condo has by far been one of my favorite projects to date. Tom and Midge were the most delightful couple to work with. This was a collaborated effort with Sean Moore Designs, Midge and myself. Many natural elements came together to give this vacation home its warm feeling; exotic stone counters, bamboo ceilings, mosaic stone tiles, and limestone floors were the foundation of creating the look.
Sean has been one of the best designers I have ever worked with. He would seek my input and counsel with me on many decisions to make this project go smooth and flawlessly.
I was working with owners in one city and the designer in another. Through phone calls, emails and many, many pictures, this was such a fun project to work on.
Interior Designer: Sean Moore Designs
Tile Supplier: Ruben Sorhegui Tile
Tile Installer: Tri-Star Flooring
Cabinet Doors: Conestoga Wood Specialties
Granite: Natural Stone Concepts
Gallery
Destination Naples
This was a complete whole house renovation. We took a house from the 80's and brought it up to speed with a 20th century contemporary feel.
Scott and Julie had just fired their designer when they called me. This is supposed to be their final move and dream villa. Distraught, Julie and I came up with some fabulous ideas that kinda just kept on growing and growing.
The kitchen was so tiny, you almost couldn't move in it. The old designer had made it larger but left a petite breakfast nook. I extended the kitchen all along the wall and made the island longer and turned it into the everyday eating area.
After removing some walls and opening things up a bit, we used Stone floors, textured tile, and a complete lighting re-configuration to turn this dated house into warm and inviting home.
Cabinets: Cuisimax USA
Tile Supplier: Ruben Sorhegui Tile
Electrician: Nu Light Electric
Stone installer: Ageless Tile
Granite: Set in Stone
Gallery
Nautical Retreat
This was another collaboration with Sean Moore Designs. I was really excited to work with Sean again.
This client wanted a design that opened up the living space of his beachfront condo and reflected his love of the ocean. Through discussion with him, we learned that he was originally from New England and that his love of the ocean included everything about it from the rocks and sand of the beach, to the docs and ships to the water and sky.
Working with the Sean Moore Designs, Sean and I began to start on the plans. Sean once again was great with his selections, colors and coordination of the design. It didn't take us long to have everything we needed.
With the permit in hand, the living space was opened up by removing some of the walls between the kitchen, dining and living rooms. We also took the old lanai patio doors out and raised the floors allowing us to include that space in the interior increasing the spaciousness of the condo.
Other features that pulled the structure and the interior design together include: stained bead board with clean white beams for ceiling detail, travertine floors with an inset wood compass medallion from Oshkosh Floors, subtle travertine mosaic tiles and exquisite Kohler fixtures.
Interior Designer: Sean Moore Designs
Tile Supplier: Ruben Sorhegui Tile
Tile Installer: Tri-Star Flooring
Cabinet Doors: Conestoga Wood Specialties
Granite: Natural Stone Concepts
Gallery
The Frenchman's Chateau
This was a charming retired French chef's condo. He sold his restaurant in France and retired to Naples, Florida. He said this little tiny kitchen was killing him. If he had to be in a small kitchen, he at least wanted it to be nice.
We took out the pantry door and opened up the kitchen. We raised the bar top and added a back splash to give some definition.
Both corners in the kitchen had no cabinet space at all. A total void. We move the stove a little and add a lazy suzan corner cabinet. On the other side we added a blind corner cabinet with a extending pull out which will utilize the majority on the space and make it accessible.
We threw on crown molding and a light rail to give the cabinets height and added puck lights under the cabinets to not only give more light but really add to the ambiance.
The granite ended up being a level 3. A beautiful selection that the owner just could not walk away from. Overall, he said we made his little condo his own little chateau.
Cabinet Doors: Conestoga Wood Specialties
Granite: Natural Stone Concepts
Gallery
On the Water in Marco
After having his home flooded, Scott was ready to start on the kitchen. He was great, knew that he wanted cherry cabinets with a ginger finish. Selecting the door style was a little harder.
Scott finally selected a simple design adding a small light rail with LED lights under the cabinets.
All the lower cabinets have 2 dovetail roll-out drawers with under mount soft close guides. The doors are also soft close.
We decided to extend the bar top a little and added 3 corbels with a tile back drop.
Scott did not want to really change the kitchen too much, just make it more accessible and fluid. We took out the desk, which was not being used, and moved the fridge into that space. This allowed us to add the wine rack and accent it with seeded glass doors back lite with puck lights.
We took out the blind corner cabinets, which are hard to access, and added lazy suzans in both corners.
Richard Fritz was the general contractor for the restoration. He is always fabulous to work with and restored the rest of the home to perfection.
General Contractor: Richard Fritz
Cabinet Doors: Conestoga Wood Specialties
Granite: Natural Stone Concepts
Gallery
Face Lift in Fiddler's Creek
Jeff and Julie were just not happy with the color and style of their kitchen cabinets.
They wanted something darker more simple. We looked at several different species of woods and colors before they decided on Cherry wood with colonial stain and sable glaze.
Normally glazes are heavy, but Julie was not looking for the lines, just the depth in the color. We custom ordered this finish with light glaze without heavy lines. It turned out Beautiful !
The peninsula had bead board on the back. lots of heavy glazed lines. We added panels right over the bead board. It really changed the feel and look of the kitchen.
Cabinet Doors: Conestoga Wood Specialties
Gallery